Skip to Content
Grub control for lawns
It's important to apply grub treatment even if your lawn has never been infected with grubs. Not applying grub control leaves your turf vulnerable, and repair work can be costly if grubs do invade your lawn. Read on to learn more about what grubs are, how they can damage your lawn, and the best way to protect your turf.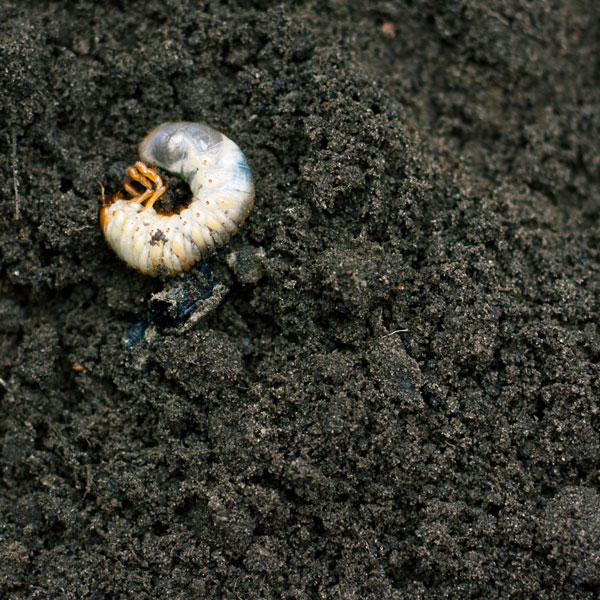 How grubs can damage your lawn
Grubs feast on the roots of plants, which kills them. However, healthy lawns can withstand upwards of 7 to 8 grubs per square foot. So don't panic if you apply grub control and still see some living grubs!
Grubs and their lifecycle
Grubs are beetle larvae. There are different types of beetles, but the most common in New England are European Chafter Beetles, Oriental Beetles, and Japanese Beetles. These grubs live a similar lifecycle: Larvae hatch in mid-July to mid-August depending on weather and environmental conditions. Then, they begin feeding on roots and molding as they move through their second and third instars. Before the ground freezes in late fall, larvae dig several inches into the dirt to hibernate for the winter before reappearing the following spring. Grub activity takes a toll on lawns, and turf that doesn't receive grub treatment often succumbs to their onslaught.
The importance of grub control for lawns
The most common and effective way to manage grub activity is by preventing the pesky critters from actively making your property their home. GreenAce Lawn Care's grub treatment will do just that. We apply grub control for lawns as a preventive grub treatment. This means it stops small- to medium-sized grubs from feeding and reproducing.
We apply our grub treatment during the summer, and it begins working two to three weeks after it's been watered into the soil. Many lawn companies spray grub killer during late spring, but we find this procedure to be much less effective because the application can break down well-before grub activity first appears.
Your trusted lawn care provider and lawn pest exterminator
We service parts of Norfolk and Bristol County, Massachusetts. Towns include Foxborough, Mansfield, Wrentham, Walpole, Plainville, Franklin, Norfolk, Stoughton, Sharon, Norwood, Canton, North Attleborough, Attleboro, Easton, Norton, and parts of Medfield, Medway & Millis. Learn more about our Complete Lawn Care program.