Skip to Content
How to review (and overhaul) your lawn care strategy this spring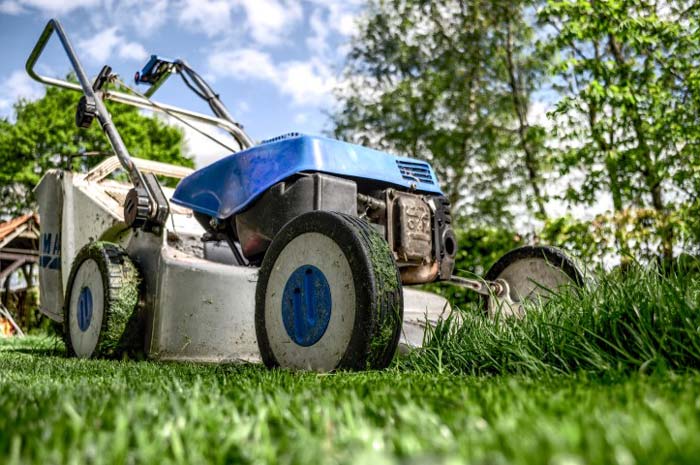 Were you unhappy with how your lawn looked last year? Maybe it's time to rethink your lawn maintenance strategy.
We get it: Lawn care and landscaping can be overwhelming. All year, if you're not fertilizing, planting or pruning, you're probably mowing.
However, there is a way to reduce stress: Review your lawn care strategy, and overhaul it if necessary! Here are some helpful tips:
1. Create a List
Create a bulleted list of all the different ways you cared for your lawn last year. Note how often you mowed, how high you cut your turf, and whether or not you changed the mowing height mid-season. If so, why did you change the mowing height? Log how often you or a professional fertilized your turf, sprayed weeds, and applied other products such as crabgrass and grub control, and lime. Record when (or if) you aerated, dethatched or power raked and the time of year you or a professional performed these activities. Were they successful? Also include other landscaping practices such as pruning, hedge trimming, weeding, etc. This list will help you visually see last year's strategy so you can accurately set benchmarks and adjust your plan this year. And don't forget to create the same list year after year! Multiple lists allow you to compare strategies.
2. Be Brave: Don't Be Afraid to Adapt and Change
If you fail to adjust your lawn maintenance strategy, you'll likely see uneven results. How you treat your lawn in the spring should (and likely will) differ from how you care for it in the summer and fall. Why? Each season is different. In the spring, you may water less because New England typically receives substantial rainfall during this time frame. In the summer, you may need to water more to compensate for drought. And in the fall, you may cut back on watering as the weather moderates and dew appears.
Developing a lawn care plan can ensure your goals stay on track.
3. Call a Professional
Many homeowners often tell me they wish they had a beautiful lawn but then admit they simply don't have time to care for it. We understand you're busy! But your lawn doesn't. Remember, your property can't care for itself. It needs constant maintenance by you or a professional. Hiring a lawn professional to apply regular fertilizer applications and other important controls is an easy way to ensure your turf remains healthy.
4. Reconsider Your Spring Lawn Practices: Don't Aerate or Dethatch!
Simply put, never, ever aerate or dethatch your lawn in the spring. A quick Google search will reveal a number of articles by "professionals" who suggest otherwise. However, it's OK to question these sources. In fact, I recommend it. Many landscapers willingly perform these procedures in the spring because 1) homeowners have money to spend, and landscapers know it, and 2) it improves the bottom line.
What is aerating and dethatching? Aerating is completed by an aerator (a machine) that plugs small pieces of dirt as it rolls up and down lawns in a checkboard fashion. To dethatches lawn, a different machine is used to slice through thatch. Thatch is dead organic matter (leaves, grass, leaves, roots, etc) that accumulate at the soil's surface near the base of grass blades.
Now, aerating does benefit lawns by loosening soil and making it easier for air, water and fertilizer to filter to root systems. Detaching also helps turf by removing excess thatch. Some thatch is benefitial because it can protect soil from the sun, which dries it out. In turn, this can slow water loss. But too much organic substance can house harmful insects and prevent nutrients and water from reaching root systems.
Here's what you should remember: While both aerating and dethatching can help lawns, both can also hurt or damage them if done in the spring and summer. Why? Naturally, no matter the time of year, both processes stress turf as they plug holes and rip through the grass. This can cause lawns to become more susceptible to drought and aggressive weeds such as crabgrass. However, when completed in autumn, lawns have a much easier time recovering because of cooler temperatures, morning dew and rainfall, and less drought-like conditions.
Is this still overwhelming?
If you feel even more overwhelmed after reading this, don't worry. Here's my suggestion: Call a professional. Doing so could save you time and money by reducing risks associated with trial and error.
The spring and summer should be spent with friends and family, not worrying about whether or not you applied too much or too little fertilizer. This spring, don't be afraid to alter your strategy or completely overhaul it.
We service parts of Norfolk and Bristol County, Massachusetts. Towns include Foxborough, Mansfield, Wrentham, Walpole, Plainville, Franklin, Stoughton, Sharon, Canton, North Attleborough, Attleborough, Easton, Norton, and parts of Medfield, Norwood, Medway & Millis. For more information, contact us today.
Your trusted lawn care provider and lawn pest exterminator
We service parts of Norfolk and Bristol County, Massachusetts. Towns include Foxborough, Mansfield, Wrentham, Walpole, Plainville, Franklin, Norfolk, Stoughton, Sharon, Norwood, Canton, North Attleborough, Attleboro, Easton, Norton, and parts of Medfield, Medway & Millis. Learn more about our Complete Lawn Care program.