Skip to Content
What moss is telling you about your lawn and what to do about it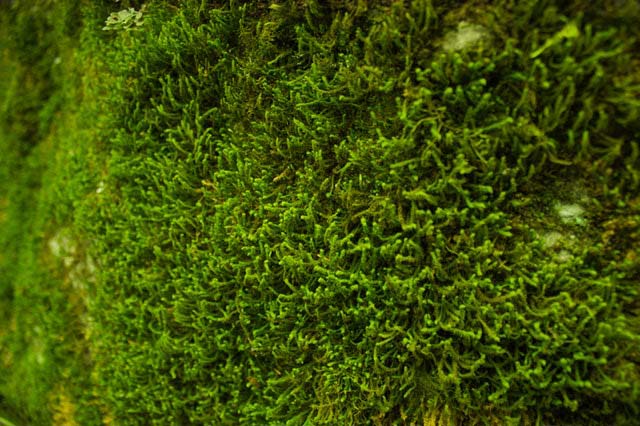 Do areas of your lawn look like those furry Chia Pets you used to grow when you were a kid? Does it have what looks like patches of fuzzy, dark green carpet? If you answered yes to both of these, you have a potential problem on your hands.
We're talking about moss.
Yes, moss can actually be aesthetically pleasing. There's something pleasant and serene about strolling through a quiet forest and happening upon a velveteen rock, tree or log covered in green moss. People have even used moss in gardens to conserve water and prevent erosion. And property owners have purposely placed moss on roofs of buildings to conserve energy and help the environment.
However, for those who simply have one goal in mind—grow a beautiful, thick, healthy lawn—these benefits are likely of little interest (or at least use) for them. They just want the moss to go away and their lawn to grow.
Moss loves to grow in environments that gross does not or simply cannot. Typically these settings have:
Soil pH: Lawns that aren't limed yearly can have pH problems, which can contribute to moss growth.
Lots of Shade: You'll notice that moss typically grows under tree canopies and stops right at the drip line.
Poor Drainage/compacted soil: Standing water encourages moss growth.
Depleted Nutrients: Poor soil fertility due to a lack of nutrients from fertilizer (nitrogen, potassium, and phosphorus) can promote moss growth.
Sure, you can control moss with chemicals. However, we use the word "control" very, very lightly. Products containing ammonium, copper, and ferrous sulfate can weaken moss so it's easily scooped up and removed. However, these controls will not prevent moss from returning— "prevent" being the operative word here.
To rid your lawn of this green nuisance, you must alter the environment encouraging it to grow. Processes include:
Adding lime: Lime will not kill moss. That's a myth. But it can help reduce soil acidity. 
Removing or Trim Trees: Cool-season grasses typically need between 5-7 hours of direct sunlight daily. Trees may need to be trimmed throughout the years to ensure your lawn is receiving the proper amount of sunlight.
Aerating in the Fall: Aerating helps loosen the soil, improving drainage. However, don't aerate in the spring! Check out our blog, "4 Things You Should Never Do to Your Lawn in The Spring" for more on why you should only aerate in late summer and the fall.
Regularly Fertilizing: Introducing nutrients to the soil can support the growth of healthy grass. And, after all, we're in the business of growing a thick, healthy lawn, not spending all of our time trying to defeat that pesky moss!
My strategy for effective moss control is simple:
Change your lawn's environment so it can better sustain cool season grasses.
Remove existing moss using a combination of some of the controls listed above and a bit of elbow grease. (You'll have to actually rake it up!)
Aerate and reseed areas once covered in moss. If you suspect the area still won't receive between 5-7 hours of direct sunlight a day despite your best efforts to reduce the shade, use a shade-tolerant seed (a Fescue variety).
Lime every year.
Take care of your lawn by regularly mowing it and watering it correctly.
Moss isn't bad or harmful. However, it is a clear indicator that areas of your property aren't conducive to healthy, consistent turf growth. In these cases, adhering to tips and practices outlined in this blog should help you get these problem areas back to normal.
We service many towns in Norfolk County, Mass. including Foxborough, Mansfield, Sharon, Walpole, Norwood, Westwood, Norfolk, Medway, Millis, Medfield, Dover, Sherborn, and surrounding towns. For more information, contact us today.
Your trusted lawn care provider and lawn pest exterminator
We service parts of Norfolk and Bristol County, Massachusetts. Towns include Foxborough, Mansfield, Wrentham, Walpole, Plainville, Franklin, Norfolk, Stoughton, Sharon, Norwood, Canton, North Attleborough, Attleboro, Easton, Norton, and parts of Medfield, Medway & Millis. Learn more about our Complete Lawn Care program.