Skip to Content
What can happen to your lawn during the winter?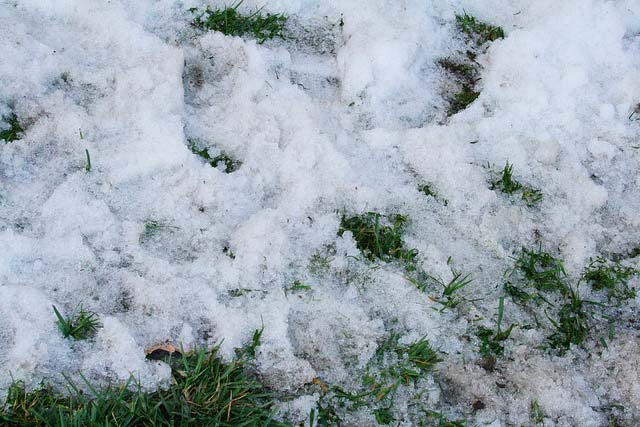 Winter can be an exceptionally brutal time for your grass. While turf is dormant (not actively growing) during this season, frigid conditions can still damage your lawn and cause it to develop diseases.
As a homeowner, it's critical you continue to think about and care for your grass when temperatures plunge. Here we'll discuss a variety of terrible things that can happen to your turf during the coldest time of year.
Decisccation occurs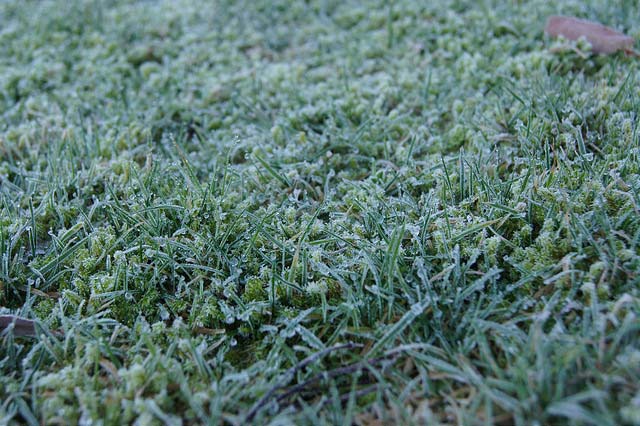 Lawns naturally go dormant during extreme heat (summer) and cold (winter), but sometimes the blades can only take so much of Mother Nature's brutality.
Under windy, frigid conditions, moisture can be sucked right from the blades. This is called desiccation.
This type of turf injury is most common on elevated sites or ones where moisture runoff is common, but it can also happen to any type of lawn – particularly long blades that have more exposed surface area.
Tom Cook, turf grass specialist with the Oregon State University Extension Service, also noted this type of damage is more common in turf that is exposed to extreme weather.
"Since living turf is also brown in the winter, this type of damage is often unnoticed until the turf fails to grow in the spring," he explained. "The areas most likely to be damaged by desiccation are often at the crest of a rise, on top of mounds or on slopes or other areas most exposed to the wind."
Depending on the state of the lawn during the spring, you may need to reseed areas.
Snow mold develops
Snow molds are diseases that typically develop on blades during heavy snow cover for prolonged periods of time. You'll usually spot these in early spring after the snow melts, but don't rule out seeing them during a warm winter when snow thaws and bare ground is exposed.
There are two types of snow molds: gray snow mold (typhula blight) and pink snow mold (fausarium patch). The type of snow mold doesn't really matter because we recommend treating your turf the same way.
To remove snow mold, lightly rake (or power rake) damaged areas. This will gently stand up grass blades, allowing them to dry out. You don't (and shouldn't) treat this turf with chemicals because snow mold will, if treated correctly, disappear on its own.
Road salts damage grass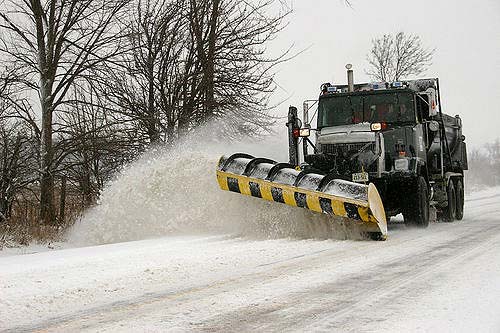 All of that road salt may keep vehicles from sliding off the road, but it can severely damage the surrounding environment, including your turf.
First and foremost, salt does one thing: It dries everything out. When it touches growing grass blades, it sucks the water right out of them, causing them to turn brown, wither and die.
Salt can also remove moisture from the soil, and when the grass wakes up from its winter slumber, the dried soil will prevent your lawn from consuming the water it needs to survive. Beyond drying out the turf and soil, the components that make up salt also separate when theycontact water.
This splitting prevents turf from soaking up precious nutrients such as magnesium, potassium and calcium, which it often receives from fertilizer.
It's crucial you remove salt from your grass as soon as possible. Salt doesn't always go away, even if it rains soon after. In fact, large amounts of salt that remain on your property – which is common during the winter – can remain in your soil for years. Eventually this salt creates a toxic environment that makes it impossible for grass to grow in.
Your lawn is fragile even when dormant
As we stated, your lawn is a fragile ecosystem all year long. While we tend to think it's more vulnerable in the summer than any time of the year, turf can just as easily succumb to extreme conditions during the winter when it's buried under snow as it does when it's burning up during the hottest months of the year.
Keep an eye on your lawn all year long, and it'll have a better chance of remaining green, and growing strong and healthy.
We service many towns in Norfolk County, Mass. including Foxborough, Mansfield, Sharon, Walpole, Norwood, Westwood, Norfolk, Medway, Millis, Medfield, Dover, Sherborn, and surrounding towns. For more information, contact us today.
Your trusted lawn care provider and lawn pest exterminator
We service parts of Norfolk and Bristol County, Massachusetts. Towns include Foxborough, Mansfield, Wrentham, Walpole, Plainville, Franklin, Norfolk, Stoughton, Sharon, Norwood, Canton, North Attleborough, Attleboro, Easton, Norton, and parts of Medfield, Medway & Millis. Learn more about our Complete Lawn Care program.